Centro Médico
In 2014, Clínica Latina transitioned to its current location at the Augusta University Health Sciences Building and saw 521 total patients. The future ALAS Centro Médico will be a ~2,500 square feet medical center located at 1120 D'Antignac Street in Augusta that will be dedicated to the serving the health needs of uninsured and low-income persons in the CSRA. The present healthcare system is not fully capable of enrolling all these individuals, so there is great demand for the health care services that ALAS offers through Clínica Latina and its other clinics.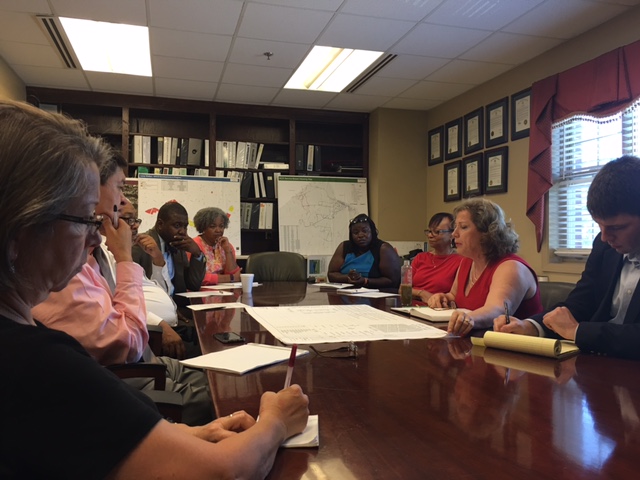 The construction of the new building will allow us to open more clinics and operate every day of the week, as well as some evenings .The evening clinics are crucial for many blue collar workers who are unable to attend during the day because of their work hours.
In addition to offering health care services, Clínica Latina also offers educational experiences to the people who volunteer in the clinic. We have an interdisciplinary learning opportunity offered to the nursing students, PA students, and medical students of Augusta University. Also some of the students of the Foreign Languages department volunteer and learn about the health care system in the Clínica Latina. Moving to the new building will allow us to expand in this area as well, with more students being afforded the opportunity to be exposed to clinical experiences during the course of their training.
With the new building, ALAS plans to offer additional medical services as well. While we currently offer primary care services, the new building will allow us to offer orthopedics, women's clinic, dermatology, eye care, and pediatrics, as all these services are lacking at the current clinic.

The new building will also serve as headquarters for ALAS, which provides more than just health services. We offer immigration help, data card services, educational acculturation services, and referral to ESL. The new building can also serve as a hub for social, legal, language, immigration, and cultural services, as well as educational programs.

By donating to ALAS's building fundraiser, you will not only be helping the many individuals suffering without adequate healthcare, but you will also be helping the CSRA community as a whole. By providing health care, ALAS helps reduce medical costs to the state and/or community. These services also increase social productivity of patients attending the clinic by timely detection of diseases and improving overall health. In addition, these services can provide a positive intergenerational effect on children who have healthy parents.